Previous Speakers
Speakers on January 27, 2020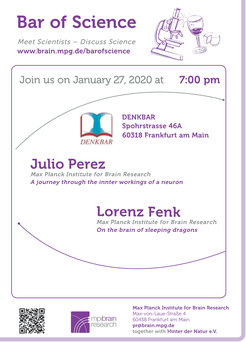 Julio Perez

Title: "A journey through the inner workings of a neuron"
Julio Perez did his PhD in Biochemistry at Harvard University in the United States. He is currently working as a postdoctoral fellow in the laboratory of Erin Schuman at the Max Planck Institute for Brain Research, where he studies the molecular organization and regulation of individual neurons.

The brain is composed of billions of neurons that are characterized by their beautiful tree-like morphology. But why do neurons exhibit such complex structures? What goes on inside these cells and are all neurons structured and regulated similarly? I will discuss our current knowledge about these topics and the work we are doing to further our understanding.
Lorenz Fenk

Title: "On the brain of sleeping dragons"
Lorenz studied Evolutionary Anthropology in Vienna before undertaking a doctorate at the University of Cambridge, exploring genetic and neural underpinnings of chemosensation in the nematode worm C. elegans. In 2017 he joined the Laurent lab at the Max Planck Institute for Brain Research, where he currently pursues his broad interests in neural network dynamics, behaviour, and evolution.

He is looking forward to talk about how the study of sleep and associated brain rhythms in reptiles has helped shed light on the evolution and function of an enigmatic brain region, called the claustrum.
Speaker on September 30, 2019 (German event)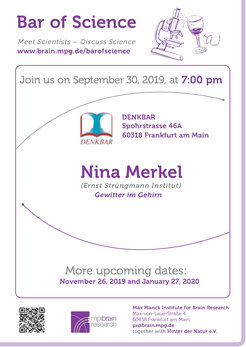 Nina Merkel
Title: "Gewitter im Gehirn"

Epilepsie ist eine Störung der hemmenden und erregenden Prozesse im Gehirn, die bei gesunden im Gleichgewicht gehalten und bei Epilepsiepatienten manchmal aus dem Gleichgewicht geraten. Epileptische Anfälle können 'große', generalisierte Anfälle sein, die zu Krämpfen des ganzen Körpers führen. Anfälle können aber auf diverse Art und mit vielfältigen 'kleineren' Symptomen auftreten. Der jeweilige Ort dieser Entladungen bestimmt dann die erlebten Symptome. Zwischen epileptischen Anfällen zeigen Gehirne von Epilepsiepatienten interessante Muster, die Auskunft über Art und Herkunftsort der Epilepsie geben.

Nina Merkel studierte Psychologie an der Universität Regensburg und promovierte danach am Max-Planck-Institut für Hirnforschung auf dem Gebiet der Erforschung der Modellierbarkeit von Gehirnaktivität durch Neurofeedback. Seit Ende der Promotion arbeitet sie in der Neuropsychologie am Epilepsiezentrum Frankfurt Rein-Main und forscht am Ernst Strüngmann Institut für Hirnforschung zu Besonderheiten in der Gehirnaktivität von Epilepsiepatienten.
Speakers on August 19 2019 (German event)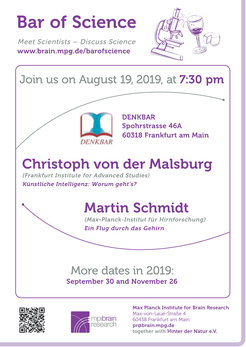 Christoph von der Malsburg

Title: "Künstliche Intelligenz: Worum geht's?"
Vor ein paar Jahren ist der Künstlichen Intelligenz ein großer Durchbruch gelungen. Wie funktioniert es? Was kann man damit anfangen? Wie wird es weiter gehen?

Prof. Christoph von der Malsburg promovierte in Physik, arbeitete als Neurowissenschaftler an einem Max-Planck-Institut in Göttingen, als Informatiker an der University of Southern California in Los Angeles und als Neuroinformatiker an der Ruhr-Universität Bochum. Er ist bekannt für seine Theorien zur Selbstorganisation der Schaltung und der Funktion des Gehirns.

Martin Schmidt
Title: "Ein Flug durch das Gehirn"
Während einzelne Nervenzellen seit fast 150 Jahren unter dem Mikroskop studiert werden, existieren gute bildgebende Verfahren zur Sichtbarmachung der Gesamtheit der Nervenzellen und ihrer Verbindungen erst seit einigen Jahren. Im Forschungsfeld Konnektomik werden diese Verfahren angewendet, um Nervenzellverbindungen zu kartieren und damit Funktion und Dysfunktion des Gehirns besser zu verstehen. Für die Rekonstruktion der Verbindungen aus riesigen Bilddatensätzen muss Künstliche Intelligenz allerdings noch regelmäßig vom Menschen unterstützt werden – eine neue Methode inspiriert durch Forschung zu selbstfahrenden Autos verspricht hier Abhilfe.
Martin Schmidt studierte Physik in Frankfurt und spezialisierte sich in seinem Master in computergestützter Physik. Für seine Masterarbeit trat er 2017 der Konnektomik Gruppe am Max-Planck-Institut für Hirnforschung bei und arbeitet seit 2018 als Doktorand an der computergestützen Rekonstruktion von Nervenzellen aus elektronenmikroskopischen Bildern.
Speakers on May 27 2019 (English event)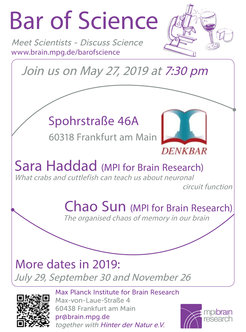 Sara Haddad
Title: "What crabs and cuttlefish can teach us about neuronal circuit function"
Sara Haddad studied marine science and biology before completing a PhD in neuroscience in the United States. She is currently a postdoctoral fellow at the Max Planck Institute for Brain Research with Gilles Laurent studying the brain and chromatophore system of the cuttlefish sepia officinalis.

Sara's talk covered how one can learn about fundamental principles that govern all nervous systems by using a variety of electrophysiological techniques in the marine invertebrates cancer borealis (the Jonah crab) and cuttlefish.
Chao Sun
Title: "The organised chaos of memory in our brain"
Chao Sun did his PhD in chemistry (molecular self-assembly) at Cornell University in USA. He joined the Schuman Lab at the Max Planck Institute for Brain Research as a postdoctoral researcher in 2018. Chao uses quantitative, single-molecule imaging to investigate how neurons allocate resources during memory and learning. His talk was about information storage using molecules, in particularly, how inputs engrave new proteins onto a neuron.
Speakers on March 25 2019 (German event)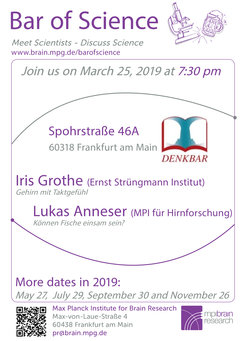 Iris Grothe
Title: "Gehirn mit Taktgefühl"
Die Nervenzellen unseres Gehirns stimmen sich wie die Instrumente im Orchester ab und spielen im Takt. Die Rhythmen, die dadurch entstehen, koordinieren die Nervenzellen und beeinflussen unter anderem unsere Aufmerksamkeit.

Iris Grothe studierte Biologie und Kognitive Neurowissenschaften in Nijmegen in den Niederlanden, bevor sie nach Bremen zog, um dort ihre Doktorarbeit auf dem Gebiet der Aufmerksamkeitsforschung zu machen. Seit 2012 forscht sie in Frankfurt am Ernst Strüngmann Institut für Neurowissenschaften.

Lukas Anneser
Title: "Können Fische einsam sein?"
Biologische Information ist im Genom codiert – bis zu 60.000 Gene sind als Baupläne für Proteine auf der DNA gespeichert. Moderne Sequenzierungsmethoden ermöglichen es uns, nicht nur zu erkennen, welche Gene in welchen Zellen abgelesen werden, sondern auch wie sich verschiedene Umgebungsbedingungen auf die Ableserate von Genen auswirken. Dies gibt uns Einblick in die hochdynamische Organisation unserer Zellen und wie unsere Umgebung sich auf uns auswirken kann.

Lukas Anneser studierte Molekulare Medizin in Erlangen und Molekulare Neurowissenschaften in Heidelberg. Seit 2016 ist er Doktorand am Max-Planck-Institut für Hirnforschung und arbeitet am Sozialverhalten von Fischen.
Speakers on September 13, 2018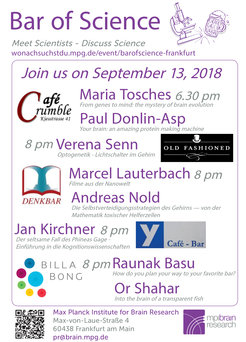 Speakers on 27 and 28 June 2017
Based on Or Shahar's idea, Arjan Vink and Or started with setting up the Bar of Science talks in June 27 and 28, 2017 with seven talks in five different bars and cafés in the Frankfurt region.

"even speakers - five venues"

On June 27 and 28, 2017, the Max Planck Institute for Brain Research organised a series of evening lectures by excellent scientists from the Institute explaining cool neuroscience in five different bars and cafés in the Frankfurt region.