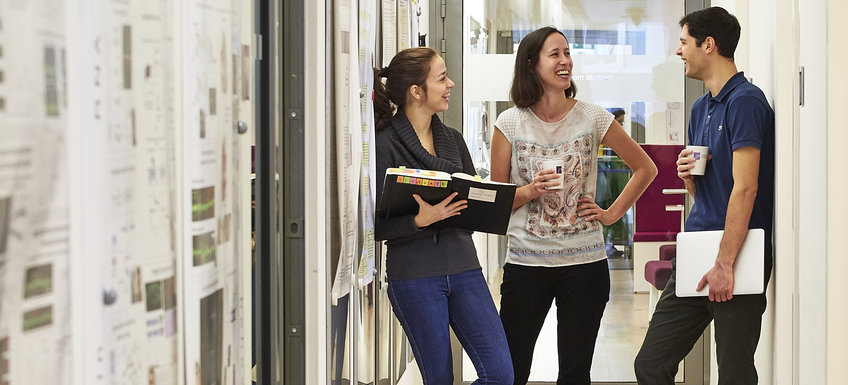 Doctoral Students

We provide highly qualified university graduates with the possibility of gaining their doctorate in our areas of research. The academic degree is awarded by a university, as our Institute does not have the power to do so. Depending on the organization of the doctorate in terms of content, we offer support to doctoral students by means of either temporary employment or a grant for up to four years. The Directors responsible for each thesis topic decide upon the type of support given and its duration.
IMPRS for Neural Circuits
In addition, as of 2011, we are offering our doctoral students challenging and formalised doctoral training at the International Max Planck Research School (IMPRS) for Neural Circuits in conjunction with other partners in Frankfurt, including the Goethe University, the Ernst Strüngmann Institute and the Frankfurt Institute for Advanced Studies. We have thus created excellent conditions for a structured English language doctoral program, and provide our doctoral students with outstanding educational and research opportunities.
What to expect?
A young, international team, full of energy and excellently assembled, awaits you. We offer you challenging and formalised doctoral training. Our doctoral students are introduced, on the one hand, to state of the art research with regard to our subject areas, and, on the other hand, also receive the methodological tools necessary for them to be able to conduct independent research on an international level and publish their work.
You will have the opportunity to attend doctoral seminars and lecture series given by international guest lecturers. Furthermore, our junior scientists are encouraged to present the current state of their own research projects at group meetings and instiite seminars. Our doctoral students are also expected to present their research findings regularly at national and international conferences and publish their work in reputed academic journals. As our Institute and this program are both international, all activities are conducted in English. All doctoral students at our Institute have the opportunity to network within the Max Planck Society.
How to apply?
The application process for our Institute varies. For an advertised opening, the call for applications will specify the preferred form of application. As a general rule, email applications are preferred. You are also welcome to express your interest in working with us even if no vacancies have been announced. Please contact our departments directly to enquire whether an unsolicited application would be worthwhile or contact the coordinator of the IMPRS for Neural Circuits.