Postdocs
Highly qualified scientists have the opportunity to work on one of our research topics at our Institute. Depending on the organisation of the post-doctorate in terms of content, we offer support to postdoctoral students by means of either temporary employment or a grant. The Directors responsible for each thesis topic decide upon the type of support given and its duration.
Necessary skills
If you are curious about, or interested in, our research topics, and you would like to probe deeper into our research fields, both independently and as a team, while at the same time asking new questions and investigating them systematically and thoroughly using scientific methods, then this is the job for you! We are looking forward to your unconventional ideas, creativity, enthusiasm, and desire for continued learning; in short, we are looking forward to working with an equal partner.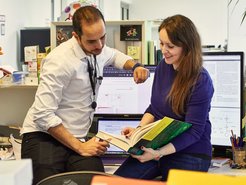 What to expect?
A young, international team, full of energy and highly professional, awaits you. Since April 2013, we are in a new building on campus Riedberg. Two new Directors - Prof. Dr. Erin Schuman and Prof. Dr. Gilles Laurent - were appointed to the Institute in 2008 and more recently (August 2014), Dr. Moritz Helmstaedter was appointed as a new Director.
How to apply?
The application process for our Institute varies. For an advertised opening, the call for applications will specify the preferred form of application. Be sure to check our current vacancies here. As a general rule, e-mail applications are preferred. You are also welcome to express your interest in working with us even if no vacancies have been announced.
Postdoc Seminar Series
In 2021, the Max Planck Institute for Brain Research hosted a series of virtual seminars in 2021 by excellent postdoctoral researchers in Neuroscience, the mpibr External Postdoctoral Seminar Concatenations (mEPSCs).
In 2020, the institute accepted numerous applications from scientists from many different institutes and universities. A committee of seven postdocs from all research areas of our institute selected the top six candidates who will virtually present their great work. We thank all who applied and we are looking forward to create great scientific interactions.
The call for applications for 2022 talks is now open!