The female turn – how evolutionary science shifted perceptions about females
Date:

May 24, 2022

Time:

11:00 AM - 12:00 PM (Local Time Germany)

Speaker:

Malin Ah-King

Stockholm University

Location:

MPIBR lecture hall and on zoom (link below)

Host:

Ashley Bourke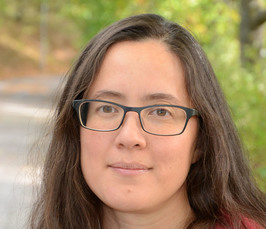 Title: The female turn – how evolutionary science shifted perceptions about females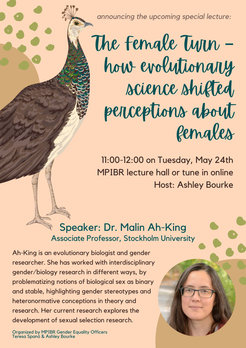 Join on Zoom
Sexual selection, the evolutionary theory about sex differences, has traditionally depicted females as coy, passive and mating only with one male. During the last forty years, the field has shifted perceptions about females to acknowledging that females can have active sexual strategies, initiate mating, be fiercely aggressive and frequently mate with multiple males.


How and why did these views shift in the international research community of evolutionary biologists? What theoretical, empirical, technical innovations or societal changes enabled these shifting views?
Drawing on feminist science studies and epistemology of ignorance – the examination of how knowledge has been ignored, delayed or not formed – I analyze how researchers have dealt with females in sexual selection.
Perceptions about females shift at different times in the sub-fields focusing on different animals (primates, birds, insects, frogs, snakes, lizards and spiders) depending on the specific circumstances – prior knowledge about females from other fields of research, particular assumptions associated with the animals in question, development of new technologies and the partial context-specific knowledge and lived experiences of individual researchers. A gender perspective is important to understand the history of shifting perceptions about females, and also to shed light on what continues to be neglected in sexual selection research.