Activities
Using the donations by the Friends we are able to support young scientists, organize special lectures as well as award scientific discovery awards to name a few. In addition, we support outreach activities as well as the annual Night of Science, the Teaching Lab, the German Neuroscience Olympiad, our Max Planck Junior Scholars Program and the Bar of Science. You can read more about the activities of the Association and the MPI for Brain Research in our newsletters.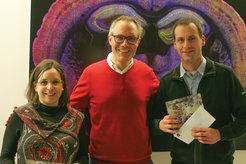 Scientific Discovery Awards (PhD and Postdoc Prizes)
The Scientific Discovery Awards recognize selected doctoral students and postdocs for their outstanding scientific contribution.
Hertie Foundation Lectures at the Max Planck Institute for Brain Research