Opening Symposium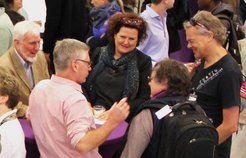 Celebrating its 100 years anniversary, the Max Planck Institute for Brain Research organised a scientific symposium "Circuits in Neuroscience" on September 24 and 25, 2014. During these two days, more than 300 people (students, postdocs, senior scientist, but also alumni) visited the lectures at the Biocenter, the get-together at the Institute with two excellent evening lectures on the Institute's history and the pedigrees of its current directors.

On our website you can find a selection of photos of the symposium, get-together and all the speakers. Contributing to the success of the event was that we had two future Nobel Prize winners in Frankfurt, John O' Keefe and Edvard Moser. We congratulate them and May-Britt Moser, who unfortunately was not able to present at the symposium, with this outstanding achievement.
We thank our generous supporters for making this event possible.