Amparo Acker Palmer will join the MPI for Brain Research as a Max Planck Fellow
Amparo Acker Palmer, professor at the Goethe University Frankfurt and the Johannes Gutenberg University (Mainz), will join the MPI as a Max Planck Fellow, effective July 1st, 2014. The Max Planck Fellow Program promotes cooperation between outstanding university professors and Max Planck Society researchers. The appointment of university professors as Max Planck Fellows is limited to a five-year period and also entails the supervision of a small working group at a Max Planck Institute.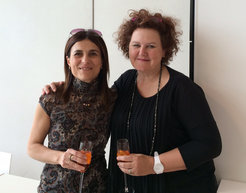 Amparo Acker-Palmer is one of the leading scientists worldwide in the field of vascular/neural development. Her research has focused during the last ten years on the development and plasticity of the nervous and the vascular system where she has made groundbreaking discoveries. Through the generation and detailed molecular, cellular and systemic analysis of genetic mouse models combined with proteomic approaches, her group has gained important novel insights into the functions and roles of the ephrin/eph system in neuronal plasticity, neuronal morphogenesis, vascular development and tumor angiogenesis.. We are very happy that Amparo joins our institute and look forward to fruitful collaboration.