New daycare center "Kairos" on campus Riedberg
There are new developments in terms of childcare on campus Riedberg. As of beginning of 2015 people who work or study there will have better possibilities of getting high-quality childcare close to their workplace.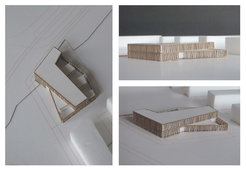 Together with the Goethe University, the Max Planck Society is building a new daycare center, called "Kairos-Kita" on campus Riedberg. Pedagogic operator will be the Gesellschaft zur Förderung betrieblicher und betriebsnaher Kindereinrichtungen e.V.
A total of nine groups for infants and kids from three months to six years of age will be established. 25% of the places are reserved for kids from the Riedberg area or for student´s kids, whereas the remaining 75 % of the places will be workplace-related, two thirds for the Goethe University and one third for the Max Planck Society.
Interested in a getting a place at the daycare center?

If you are working at a Riedberg MPI and interested in a place at Kairos, please send a non-binding email to Dr. Antje Berken. Please make sure to provide your contact information as well as name, date of birth of your child and whether it is a girl or boy. Please also let us know if you prefer daycare between 7:30 and 17:00 hours or between 8.30 and 18:00 hours.
The Kairos-Kita will be located at Max-von-Laue-Straße 20, 60439 Frankfurt am Main (near U8/U9 stop Uni-Campus Riedberg)