Max Planck Institute for Brain Research presented in the Science Tunnel 3.0
The Science Tunnel 3.0 is an interactive exhibition showing various research themes of the Max Planck Institutes. The mobile exhibition was opened on October 17, 2012 and will stay till February 24, 2013 at the Heinz Nixdorf MuseumForum in Paderborn. After this, it will go abroad and travel all around the world.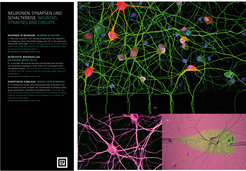 One of the eight themes shown in the Science Tunnel is the brain. The Max Planck Institute for Brain Research contributed strongly to the exhibition. Shown are two films on the research of Gilles Laurent and Erin Schuman, research images of neuronal networks, cultivated neurons, as well as images of local protein synthesis at the dendrites and axons.