Back to the roots
The Max Planck Society celebrates its 75th anniversary in Göttingen
The Max Planck Society is celebrating its 75th anniversary in 2023 with a series of events throughout the year, and in June it returned to its birthplace in Göttingen to host a one-day science market in the medieval town square. The Max Planck Institute for Brain Research joined forces with the MPI for Neurobiology of Behaviour - Caesar,  the MPI for Biological Intelligence, and the Max Planck Florida Institute for Neuroscience to show the science-interested public their research activities and answer questions.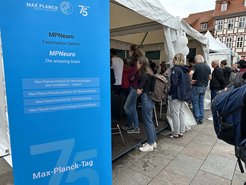 The day got off to a wet and windy start, but despite these challenges, the MPNeuro tent that the four institutes shared saw a steady stream of visitors. They were able to compare animal brain models, look at fluorescent worms under a microscope, and control a robotic claw via electrodes placed on their skin. Amongst the early visitors who braved the rain were Petra Broistedt, the Lord Mayor of Göttingen, and Patrick Cramer, the newly appointed President of the Max Planck Society.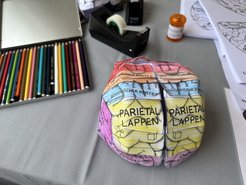 As the sun came out in the afternoon, more families arrived and the children were entertained by making "brain hats" out of paper, programming a toy robot and throwing small bags filled with sand at a goal while wearing vision-distorting prism glasses.
Interaction with the Göttingen public was lively and many visitors spent half an hour or more in the MPNeuro tent asking questions and sharing their thoughts about the brain.
The Science Market closed at 7 pm, but the evening continued with a Science Slam in the Old Town Hall, where young scientists from various Max Planck Institutes presented their research to an appreciative audience.