Girls' Day 2023
Girls' Day is an annual event in Germany designed to encourage girls and women to take up technical and scientific careers. As in previous years, the Max Planck Institute for Brain Research participated in the event and invited a group of school girls to be neuroscientists for one day.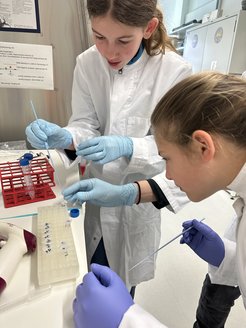 On April 27th, a group of ten girls from different schools in and around Frankfurt had an exciting opportunity to step into the shoes of a neuroscientist for a day at the Max Planck Institute for Brain Research. The girls, ranging in age from 10 to 18, were warmly welcomed and given a comprehensive introduction to and a guided tour of the institute.
In the institute's teaching lab, the girls engaged in a hands-on activity—learning how to extract DNA from raspberries. This practical exercise led by Susanne tom Dieck (Staff Scientist in the Schuman Department) and colleagues not only provided them with a unique opportunity to understand the fundamental principles of DNA extraction but also showcased the interdisciplinary nature of neuroscience, where biology intertwines with the study of the brain.
During lunch, the girls were treated to inspiring talks by four female scientists at different stages of their career, ranging from PhD graduate (Simone Rencken, Laurent Lab, and Alicia Strosche, Stempel Lab) to Max Planck Research Group Leader (Alison Barker and Vanessa Stempel). These researchers shared their personal journeys, discussing what sparked their interest in neuroscience and detailing the paths they pursued to reach their current positions. The talks shed light on the challenges they faced, the choices they made in terms of education and career, and the pivotal moments that shaped their trajectories. Such first-hand accounts offered valuable insights and served as powerful role models for the aspiring young neuroscientists.
Overall, the girls' visit to the institute proved to be a fun and enriching experience that we hope will ignite a lifelong passion for science and encourage these girls to pursue their dreams in the field of neuroscience or other scientific disciplines.