Institute Visit by the Max Planck Society's President-Elect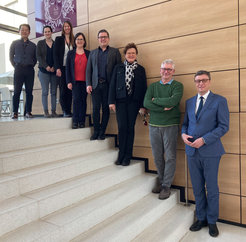 On February 9, 2023, Professor Dr. Patrick Cramer, the President-elect of the Max Planck Society, paid a visit to the Max Planck Institute for Brain Research as part of his ambitious plan to visit all 86 Max Planck Institutes. This visit was in preparation for his official assumption of the presidency in June 2023 in Göttingen, coinciding with the Society's 75th anniversary. Accompanying Cramer were Dr. Katja Ketterle, Head of the Max Planck Society's Institutes Department, and Dr. Christiane Barz, Institute Liaison.
During the visit, Cramer engaged in discussions with the institute's directors and met with representatives from various departments, including researchers, IT, scientific facilities, and equal opportunities officers. These interactions provided valuable opportunities to exchange ideas and gain insights into the institute's operations and research activities.
Later in the day, a general assembly was held in the lecture hall, where Cramer addressed the value of science and emphasized the importance of generating new knowledge for the betterment of society. Following his remarks, he opened the floor for questions, fostering an interactive dialogue with the audience. The visit concluded with a dinner at the Minerva Bistro, where Cramer had the opportunity to engage in further conversations with representatives from the MPI for Brain Research.
Overall, Cramer's visit to the institute allowed for meaningful exchanges with the staff and provided a platform to discuss the significance of scientific endeavours and the collective pursuit of knowledge.