Julijana Gjorgjieva has been awarded the 2018 Research Prize from Peter and Traudl Engelhorn Foundation
Julijana Gjorgjieva is one of the four Max Planck Research Group Leaders at the Institute and received the Research Prize in "Computational Biology: New Methods in Biology-Oriented Information Technologies With Impact On Basic Research and Application" for her work on computational models of neural circuit organization and development.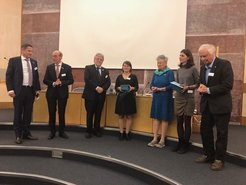 The awarding ceremony on November 6, 2018 was held at Evangelische Academy in Tutzing and also celebrated the 25th anniversary celebration of the Engelhorn Foundation. Julijana received the prize in the presence of the benefactor Mrs. Traudl Engelhorn and the Foundation's board, as well as the Foundation's postdoc awardees. The Max Planck Institute for Brain Research congratulates Julijana on this great effort.