"The Remarkable Neuron"
Prof. Erin Schuman, Director of the Max Planck Institute for Brain Research presented her work at the TEDx Caltech conference, which took place earlier this year.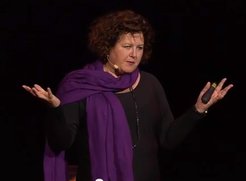 On January 18, 2013, Caltech hosted TEDxCaltech: The Brain, a forward-looking celebration of humankind's quest to understand the brain, by exploring the past, present and future of neuroscience. Erin Schuman presented her work on protein synthesis at the synapses. Her presentation was titled "The Remarkable Neuron" was recently put online and can be found here.
TEDx (x=independently organized TED event) Caltech is a local, self-organized event that bring people together to share a TED-like experience. At this event, TEDTalks video and live speakers were combined to spark deep discussion and connection in a small group.