Institute´s Teaching Lab hosts high-school students
On Friday October 31, seven high-school students from three different German high-schools visited the MPI for Brain Research and did experiments at the Teaching Lab.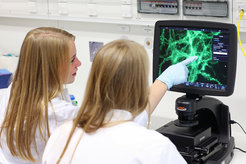 Researchers from the Max Planck Institute for Brain Research showed them how to isolate DNA from fruits, make slices in the rat hippocampus and stain different parts of the cell. The students were selected via the project Du denkst Zukunft!. The practical day at the Institute followed project days, which focused on Alzheimer's disease, at different local high-schools earlier this year.