Jenna Dilworth graduates as a Max Planck Junior Scholar
The Max Planck Junior Scholars Program offers internships to excellent high-school students to gain research experience and become enthusiastic for a future career in the natural sciences. Jenna Dilworth, a former high-school student at the Frankfurt International School in Oberursel, was the the Program's first student.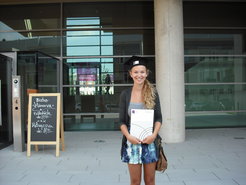 Jenna Dilworth did a two-week summer internship last year and, between August 2012 and April 2013, she was at the Max Planck Institute for Brain Research for two hours a week (on average), at the Erin Schuman's Department, where she was supervised and mentored by Irina Epstein, a graduate students at the Schuman Lab. Jenna will now leave Germany soon to study at McGill University in Montreal, Canada.