2021 Institute Awards
The 2021 Friends of the MPI for Brain Research Science Discovery and Science Support Award laureates have been announced.
The Scientific Discovery Award of the Friends of the Max Planck Institute for Brain Research recognizes doctoral students or postdocs for their outstanding scientific contribution. This year, our institute introduced a Science Support Award, to honor non-scientists at the institute who enable and facilitate our science with exceptional commitment and dedication in their field of occupation. The winners of the 2021 Science Discovery and 2021 Science Support Awards were announced and presented on December 13, within the framework of the MPIBR winter-holiday festivities.
2021 Scientific Discovery Award Laureates: Claudia Fusco and Dr. Raunak Basu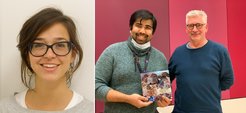 Claudia Fusco is a graduate student in the Schuman Department. Claudia is recognized for her discovery of the dynamic exchange of ribosome proteins.
Dr. Raunak Basu is a postdoc in the Ito Research Group. Raunak is recognized for his discovery of the brain's internal goal map in the rodent orbitofrontal cortex.
2021 Science Support Award Laureates: Heiko Fernau and Stefanie Kranz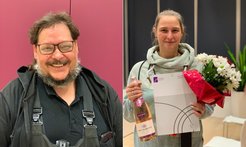 Heiko Fernau (Facility Management) is recognized for his indefatigable dedication and commitment to our institute, his service and immediate help in all things technical, and his optimistic outlook and good humor at work, at any hour of the day or night.
Stefanie Kranz (Animal House) is recognized for her dedicated service and care of the cephalopods in the aquazone of the animal facility, with a particular mention of her and her colleagues animal caretakers' very hard work throughout the Covid pandemics, enabling our institute's experimental work to coninue throughout the past 2 years.
We congratulate all our Award winners!
About the Friends of the MPI for Brain Research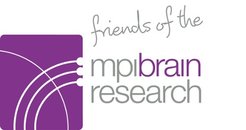 The Friends of the MPI for Brain Research was established in 2012. It is a non-profit organization that aims to promote science, research and education (including student aid).
The Friends funds enable the institute to support young scientists, organize special lectures and deliver awards such as the Scientific Discovery and Science Support Awards. In addition, Friends supports public outreach activities, including the Night of Science, the German Neuroscience Olympiad, the Bar of Science, Teaching Lab activities, and the Max Planck Junior Scholars Program.
Members of the Friends Association are informed of the latest news from the institute through a bi-annual newsletter, are invited to special lectures and events, and have access to the institute library. It is a great opportunity to get insights about how research is done, to learn about the brain and about how neurons, synapses, and neuronal networks ultimately lead to behavior and perception.
Want to become a Friend? Join us here!