German Neuroscience Olympiad
Students from all over Germany compete against each other at a national neuroscience competition at the Max Planck Institute for Brain Research
On April 29th, 2023, the finals of the German Neuroscience Olympiad, a nationwide competition for students in grades 8 to 13, will take place at the Max Planck Institute for Brain Research in Frankfurt. Fifteen young people interested in the life sciences qualified for this competition at regional preliminary rounds in Berlin, Bonn and Heidelberg. A winner will now be chosen in Frankfurt to represent Germany at the 2023 International Brain Bee World Championship.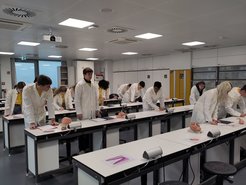 At the finals, the 45 students will take four exams, all of which must be completed in English. Between the exams, they, their parents and teachers have the opportunity to conduct their own experiments and talk to experienced neuroscientists working in medicine or research.
The day begins for the candidates with a so-called patient diagnosis round with videos and anamneses. Next, they have to demonstrate their knowledge of anatomy using brain models and microscopy preparations. This is followed by a multiple choice test. The ten best participants will then compete in a quick question round in front of an audience and a jury consisting of four neuroscientists. The victor will face the winners from over forty countries at the 2023 International Brain Bee World Championship, a virtual event spanning several days, in early August.
The nationwide competition, which is organised voluntarily by doctoral students and teachers, aims to promote young people's interest in the neurosciences. It has been taking place in Germany since 2011 and has developed over time into an event with hundreds of participants. Since 2016, it has been running under the name "German Neuroscience Olympics" and is supported by partnerships with the German Neuroscience Society (NWG) and the Hertie Foundation, among others.
Download the schedule (PDF)