Alison Barker awarded an ERC Starting Grant
The European Research Council (ERC) awards its first early-career research grants under Horizon Europe
Alison Barker, new Research Group Leader at the Max Planck Institute for Brain Research in Frankfurt receives the prestigious ERC Starting Grant for her project "Neural circuits for social communication". She is one of eleven 2021 early-career research grant laureates who are currently affiliated with the Max Planck Society. The ERC Starting Grants are worth on average €1.5 million will help ambitious younger researchers launch their own projects, form their teams and pursue their best ideas.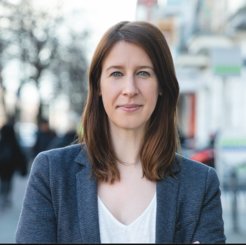 Our capacity for language is an essential part of our ability to forge and reinforce social bonds. Humans are exceptionally good at communicating via vocal cues, yet many types of acoustic communication are found throughout the animal kingdom. Surprisingly little is known about how social information encoded in acoustic signals is subsequently decoded within brain networks.
Barker started her research group "Social Systems and Circuits" at the Max Planck Institute for Brain Research in December 2021. For her research, Barker adopts a broad evolutionary perspective, studying vocal communication in the naked mole-rat, a highly vocal and highly social rodent which lives in large multi-generational colonies under the rule of a single breeding female, queen. In addition to their extreme cooperativity, these rodents are highly vocal with a repertoire (> 25 distinct vocalizations) comparable to that of non-human primates. "Naked mole-rats use greeting calls, "soft chirps" to share information about individual identity and colony membership. Using these specialized vocal cues as a starting point we aim to understand the underlying neural circuitry that allows for the social recognition, and how these signals are adapted to changes in social situations," explains Barker.
Barker is one of 397 early-career researchers who are awarded the 2021 ERC Starting Grant. Female researchers received 43% of grants, an increase from 37% in 2020 and the highest share to date. Following the first call for proposals under the EU's new R&I programme, Horizon Europe, €619 million will be invested in excellent projects dreamed up by scientists and scholars.
About the ERC
The ERC, set up by the European Union in 2007, is the premier European funding organisation for excellent frontier research. It funds creative researchers of any nationality and age, to run projects based across Europe. The ERC offers four core grant schemes: Starting Grants, Consolidator Grants, Advanced Grants and Synergy Grants. With its additional Proof of Concept Grant scheme, the ERC helps grantees to bridge the gap between their pioneering research and early phases of its commercialisation.