Lenin's brain in Spiegel Magazine
Spiegel dedicated an article on the investigation of Lenin's brain by Oskar and Cécile Vogt during the 1930ies. This online paper also includes historical images.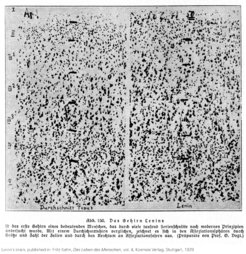 The Vogts cut Lenin's brain in more than 30.000 pieces and studied them in new-founded Institute in Moskow. Based on the anatomical findings, Oskar Vogt concluded that Lenin must have been an association athlete.

More information can be found in the Spiegel article (in German), in the anniversary book 100 years - minds in motion and the exhibition. See also the history section of our website.