Otto Hahn Medal for Young Researcher
Caspar Glock is recognized by the Max Planck Society for outstanding scientific achievements during his doctoral work
Dr. Caspar Elias Glock completed his doctoral thesis in Prof. Erin Schuman's lab at the Max Planck Institute for Brain Research. On June 22, Glock received the Otto Hahn Medal of the Max Planck Society for his discoveries of gene expression mechanisms, including regulatory RNA features, unconventional translation mechanisms, and the elucidation of proteins that are synthesized in neuronal dendrites. The Medal honors young researchers for outstanding scientific achievements. The award ceremony took place during the 73rd annual assembly of the Max Planck Society in Berlin.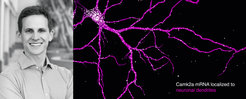 Due to their unique and complex morphology, neurons face extraordinary logistic challenges.
"I am fascinated by the mechanisms that neurons use to ensure that the right protein is made at the right time and at the right location. My work uncovered the mechanisms controlling the localization of messenger RNAs to synapses and provided important insights into how the templates are translated into protein. I believe that understanding these fundamental molecular mechanisms occurring in our brains will eventually help the development of therapeutic strategies to fight memory disorders", shares Glock.
"Glock's work represents a big advance in our understanding of mRNA translation mechanisms in neurons", says his supervisor, Prof. Erin Schuman, director at the Max Planck Institute for Brain Research.
Glock recently joined Genentech (San Francisco, California, US) for postdoctoral training. At Genentech, he is using computational methods to decipher the molecular processes that go awry in neurodegenerative disorders.
About the Otto Hahn Medal
Every year since 1978, the Max Planck Society has awarded the Otto Hahn Medal to young researchers for outstanding scientific achievements, mostly in connection with their doctorate. The Medal is endowed with 7,500 euros of prize money. The aim of the award is to motivate particularly talented individuals to pursue a university or research career.